Born and raised in Ottawa Canada, Joe Guy Allard moved to Western New York in his mid-twenties to start a new life with his (expecting) girlfriend and has made it his home ever since.
Building on his background in graphic arts, Joe Guy picked up a brush and began painting by—poorly—imitating his biggest influences from the pages of art magazines. Over a decade later, he now uses his own signature approach and color palette to create pieces which have been displayed in businesses, galleries and homes in both U.S. & Canada.
Inspired by his memories of Saturday-morning cartoons and his life-long love of terrible horror movies, he creates artwork that is at once grim, awkward and curiously adorable. The artist's use of bright colors and bold lines with an often ominous narrative is a conscious attempt to blend the line between the fantastic and the horrific.
Joe Guy lives in Lockport, NY with his wife, two daughters, two dogs and two cats.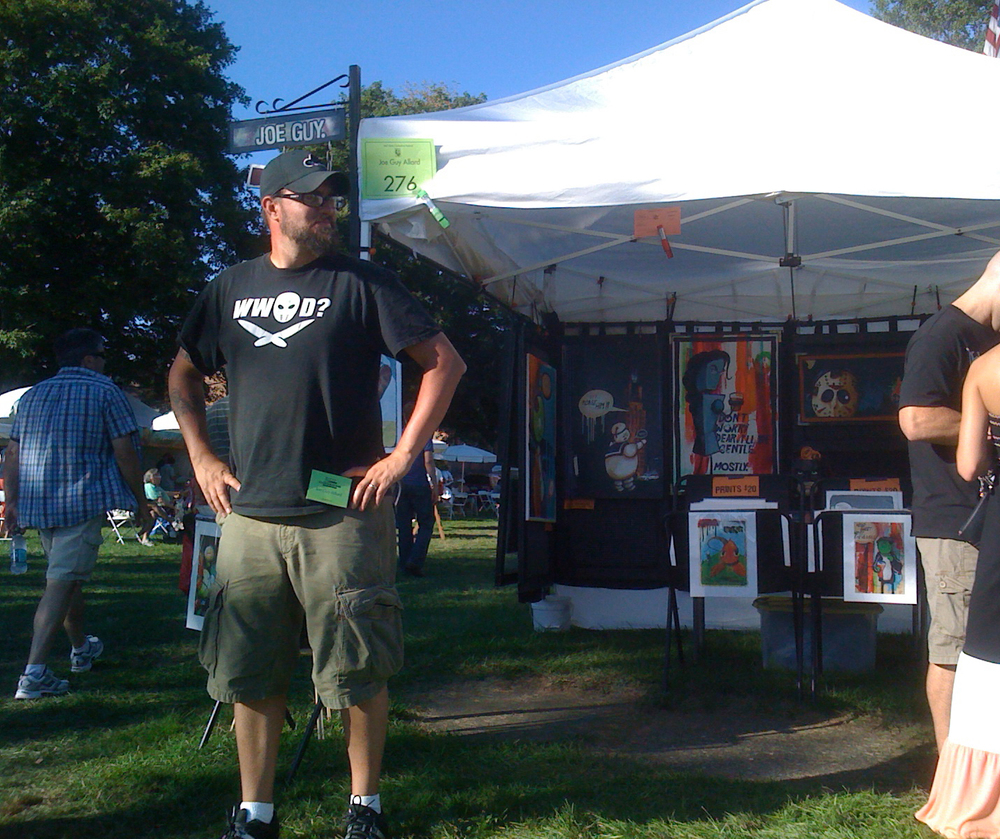 Tap & Mallet, Rochester NY — "Beer Goggles" Group Show
LUX Lounge, Rochester NY — "Back to the Future" Group Show
ROC Brewing, Rochester NY — "Triptych" Group Show
Wall/Therapy Mural Event, Rochester NY — "Robots vs. Monsters" Mural w/Matt Roberts
1975, Rochester NY — "IMpact" Group Show
ROC Brewing, Rochester NY — "LVL UP" Group Show
Fusion Salon & Barbetorium, Rochester NY — "Set To Stun" Group Show
LUX Lounge, Rochester NY — Spring/Summer Group Show
Record Archive, Rochester NY — "The Vinyl Countdown" Group Show
ROC Brewing, Rochester NY — "We Art ROC" Group Show
Fusion Salon & Barbetorium, Rochester NY — "Closed on Mondays" Solo Show
Tap & Mallet, Rochester NY — "The Hangover" Group Show
1975, Rochester NY — "Boys vs. Girls 2" Group Show
MuCCC, Rochester NY — "Breakfast with Krampus" Group Show
Art Museum of Rochester, Rochester NY — "Anti-Fashion" Group Show
Tap & Mallet, Rochester NY — "Dudes on Tap" Group Show
1975, Rochester NY — "Boys vs. Girls" Group Show
Coach Street Gallery, Canandaigua NY — Permanent Collection
1975, Rochester NY — "Haunted" Group Show
Gallery 141B, Buffalo NY — "Eye of the Beholder" Group Show
1975, Rochester NY — "Cinemontrum" Group Show
Grass Root Gallery, Rochester NY — "Haunted Rochester" Group Show
Guerilla Gallery, Buffalo NY — Halloween Group Show
Record Archive, Rochester NY — "Heroes vs. Villains" Group Show
Tap & Mallet, Rochester NY — "Sunday Morning Series II" Solo Show
Rochester Contemporary Art Center, Rochester NY — "6x6" Group Shows
Firehouse Gallery, Rochester NY — "Spokes & Ink" Group Shows
Pandaman Gallery, Rochester NY — "Cult Classics" Group Show
Tap & Mallet, Rochester NY — "Sunday Morning Series" Solo Show
Cafe Sasso, Park Ave, Rochester NY*
Pulp Nouveau Comix, Canandaigua NY*
Swedge Shop, Rochester NY*
ROC Brewing, Rochester NY
BLU Bar & Grill, Rochester NY
Record Archive, Rochester NY
Fusion Salon & Barbetorium, Rochester NY
Boulder Coffee Company, South Wedge, Rochester NY
Muddy Waters, Geneseo NY
LUX Lounge, Rochester NY
Muddy Waters, Rochester NY
Physical Graffiti Tattoo Studio, Rochester NY
Spot Coffee, East Ave, Rochester NY
Tap & Mallet, Rochester NY
Allen West Festival, Buffalo NY
Allentown Arts Festival, Buffalo NY
Artist Row, Rochester Public Market
Boulder Festival, Rochester NY
Corn Hill Arts Festival, Rochester NY
Elmwood Festival of the Arts, Buffalo NY
M&T Bank Clothesline Art Festival, Rochester NY
Park Ave Summer Art Fest, Rochester NY